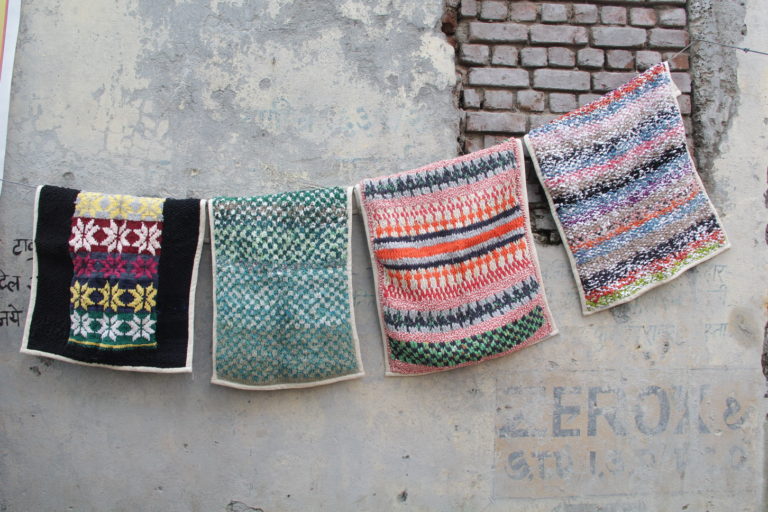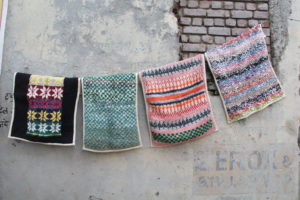 We recently caught up with Tanushri Shukla, founder of Chindi,  a Mumbai based social enterprise working with marginalised women to provide employment through crafts, to learn more about the organization.
AG: Tell us about Chindi. What inspired you to work with marginalized women and provide them employment through craft production?
C: Chindi is about two years old now. The idea for the name actually came to me many years before the social enterprise was set up. My family runs a garment production unit where I'd see kilos and kilos of leftover fabric being tossed into the garbage dump. This leftover scrap is called "chindi" in the tailoring community. I always thought, "something can be done with this chindi, it can be done under a label called "chindi", but the idea remained only in my head for a long time! When I set up Chindi, the name was also a play on the word that is often used as an insult to describe someone who is miserly or stingy — a "chindi chor" as they are described in India! I felt like in a world drowning in its own waste, maybe being a little bit of chindi is not such a bad thing, so the idea was also to put a positive spin on the word. Today, I'm happy to see many brands and people use the word "chindi" very proudly 🙂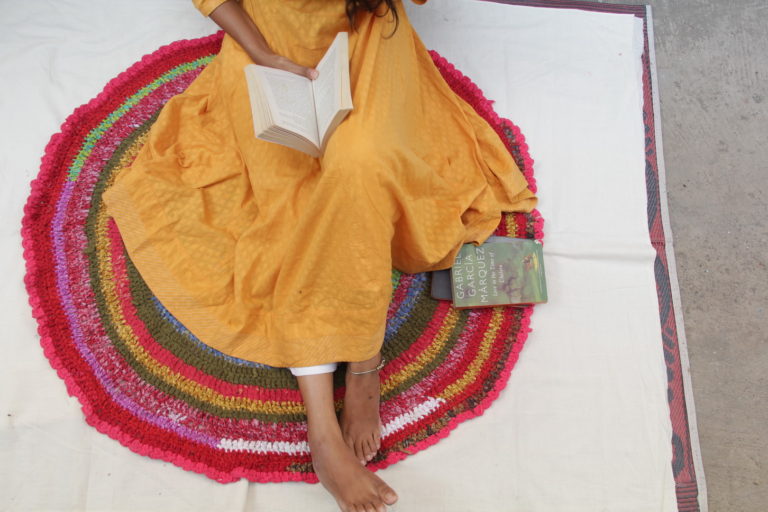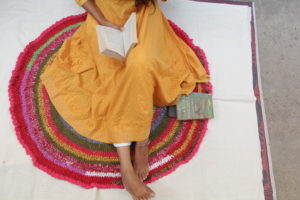 Chindi employs a team of six craftswomen, a skills trainer, and a manager who all work out of our centre in Mankhurd, Mumbai. This is a community of north Indian migrants and we discovered that they had extremely superior skills in knitting and crochet, crafts that they have grown up learning in their families but had mostly stopped doing since relocating to the city. Through them, we have been able to combine upcycling with a revival of these dying crafts. For all of our women, Chindi is their first formal job, and the first time they are not dependent on their husbands and in-laws for money but contributing to the family financially. This is helps them make slow but steady progress in finding a voice in their family and community and we are so proud of them!
I also work very closely with my mother, Roopa, who works with our women and on the community development side of Chindi. She runs the sewing unit which now upcycles a lot of their waste through Chindi!
AG:How did you end up focussing on up-cycled goods?
C: I love fashion! But I was also finding it increasingly hard to read about the lack of ethical practices and rampant exploitation by the brands I was buying and using. Through Chindi, I've been able to combine my love for fashion with my desire to help clean up the industry, in my own small way. Our raw material comes from sewing units, manufacturing units, and design houses for whom we provide an easy way to go zero waste.
Working with scrap is always a challenge because the material you'll have to work with is unpredictable and changes from day to day. Because of this, our design process has to be backwards — we first see our material and then decide what to do with it. We've made this "disadvantage" an advantage because this means each of our pieces and collections is one of a kind. So if you have a Chindi handbag, you're the only one in the world with a bag like it, because we simply cannot ever make it again! 🙂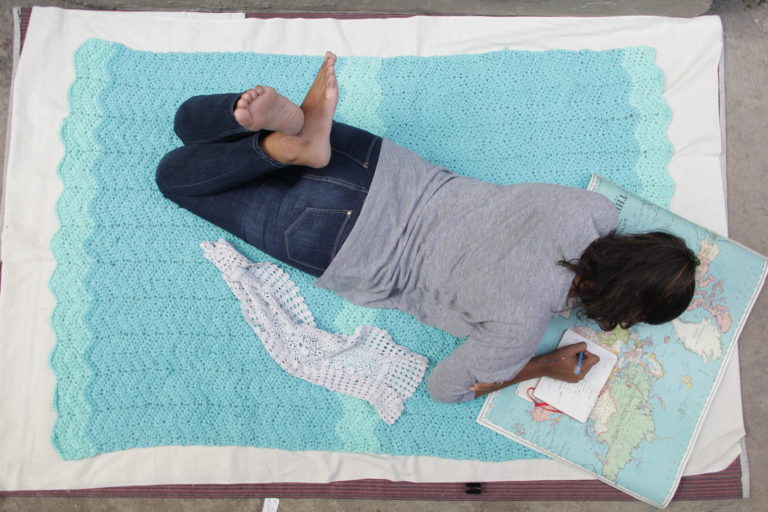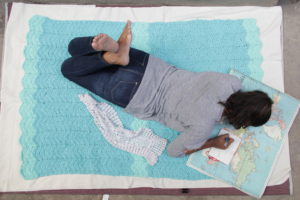 AG: What types of products do you make?  How are your products designed and developed? 
C: For the past two years, we've been focused on not developing "collections" of products but really make any and everything we can to show the possibilities and innovation possible with the material. Our products come from a pure collaboration between our craftswomen and product designers who combine their aesthetic with our women's skills at knitting and crochet. We now have a small range of products that are our bestsellers and showcase this design collaboration really well — we're especially proud of our rugs, bathmats, pouches, yoga mat straps, and jewellery. The idea for the rugs and bathmats came from the women who often turn their old clothes into rugs for their homes. The pouches were designed in collaboration with Kometjuice and the jewellery was a collaboration with Chiria.     
We are on a mission to help clean up the fashion industry, so we are focusing on using textile production waste. In the future, we are planning smaller collections made with other forms of waste combined with our women's weaving techniques.
AG: Tell us about Chindi Labs – what is the idea behind it?
C: Chindi Labs is a our playground where we experiment and innovate with our material to showcase the wide possibilities of our material and our women's skills. We have experimented with everything from avant garde clothes to furniture to toys stuffed with the scrap from our own shop floor. We are a completely zero-waste organisation and use every single tiny scrap of material!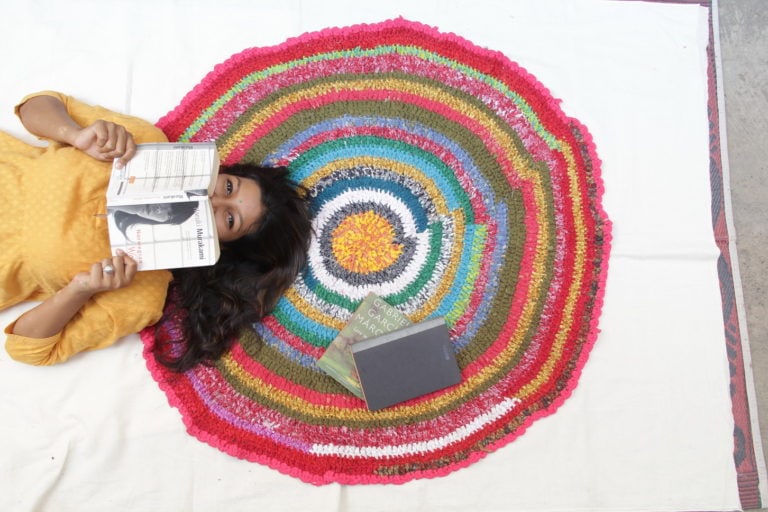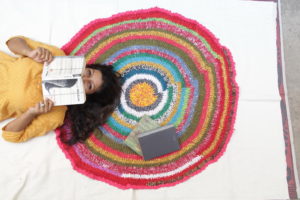 AG: Who is your primary customer? And how do you interact with them?
C: When we first started selling Chindi products, we realised we are not selling just another handbag, we're also teaching people about the problem of textile waste which does not get much attention in India, and bringing attention back to knitting and crochet which are crafts most people in India associate only with something their grandmothers once did! So we love selling at events like Kala Ghoda Arts Festival (where we officially launched) where we really get to talk to our customers and share our story. We also sell our products via our website www.chindi.in. We are stocked in a few conscious stores like OMO and The Yoga House, both in Bandra, Mumbai.
Our customer is definitely someone who wants to make more conscious choices but does not want to compromise on the quality and design of the things they use in their day-to-day lives. So although they are drawn to the brand because of its story, they ultimately buy our products because they are well designed and super functional. My research process was mostly informal — it was dinnertime conversations with friends about their feelings about the brands they were buying and how they felt about their practices, it was meeting with loads of socially minded entrepreneurs and learning from the stories they shared, it was closely observing my own behaviours and desires as a consumer struggling to find more conscious choices. Slowly we realised that the work we were doing can make a genuine impact in terms of keeping waste out of landfills, prolonging product life cycles, and impacting our women's day-to-day lives through financial independence.
We have an active social media presence on Facebook and Instagram where we interact with likeminded people, other similar brands, and buyers. Since a collaborative model is at the core of everything we do, our customers are our friends are our partners are our stockists!    
AG: How do you create awareness about your brand and mission? How receptive is your audience/the public to up-cycled and recycled goods?
C: Chindi has come at a time when more and more people across the world are becoming conscious about the consumption choices they're making. So I think we have a very, very receptive audience who immediately "gets" what we're about. The problem of waste and poor labour practices in the fashion and lifestyle industries specifically, is perhaps a new idea in India, though being much talked about in the US and Europe, and we're definitely part of the movement helping educate people about it. Many of our customers had never realised what a huge contribution textile waste makes to landfills right around the corner from where they live, or how poorly paid craftspeople are in a craft-centric country like ours. Once we start telling our story though, they get it and want to make the better choice.
AG: What would you site as one of your success? What has been one of your biggest challenges in the recent past and how have you navigated this?
C: One of our greatest successes has come through a collaboration with Toronto-based brand Nor Black Nor White. They custom design beautiful textiles for their collections and had been saving up all their chindi from the last five years because they couldn't bear to part with it. We came in and turned all of it into hair accessories that they recently show cased at Lakme Fashion Week. So with one small collaboration they've become a completely zero waste brand! This is a huge, huge impact!
One of our greatest challenges is related to product design and working with designers and brands who care enough about their waste to put in the effort to create one off and somewhat unpredictable pieces. As I mentioned, working with waste means designing products backwards, assessing the material first and then deciding what to make of it. This can be challenging for designers and a bit difficult for clients who don't always know what their finished product will look like. At Chindi however we love this challenge and the final outcome is always a surprise, usually a good one!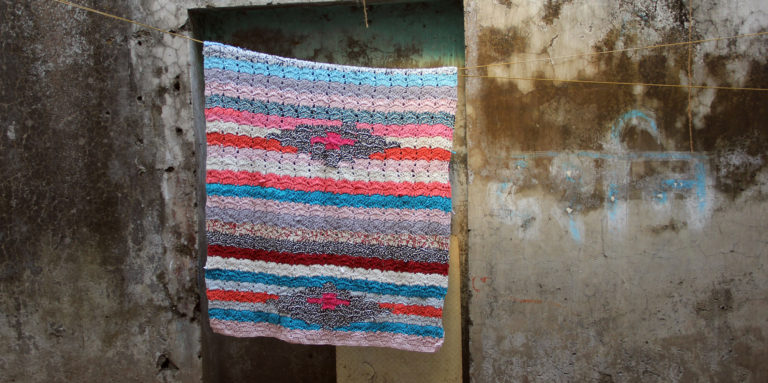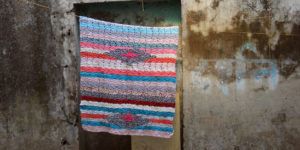 AG: What can we expect to see from Chindi  in 2016? 
C: Now that we've experimented with chindi combined with knitting and crochet in various forms, we're going to be planning smaller capsule collections. We're also going to be zeroing in our focus on the products that work best and make the highest impact in terms of waste consumption and showcasing our women's skills. We're also actively looking for collaborations with designers, fashion houses, stores, exporters and others on custom orders. Exciting times ahead!  
A final note I wanted to add is that as of January 2016, Chindi was accepted for a year-long incubation and support program by Unltd India, an incubator for social enterprises in India. I owe them so much for the advice, expertise and network they have helped me create!
For more information about about Chindi, visit: www.chindi.in