A conversation with Threadapeutic founder, Hana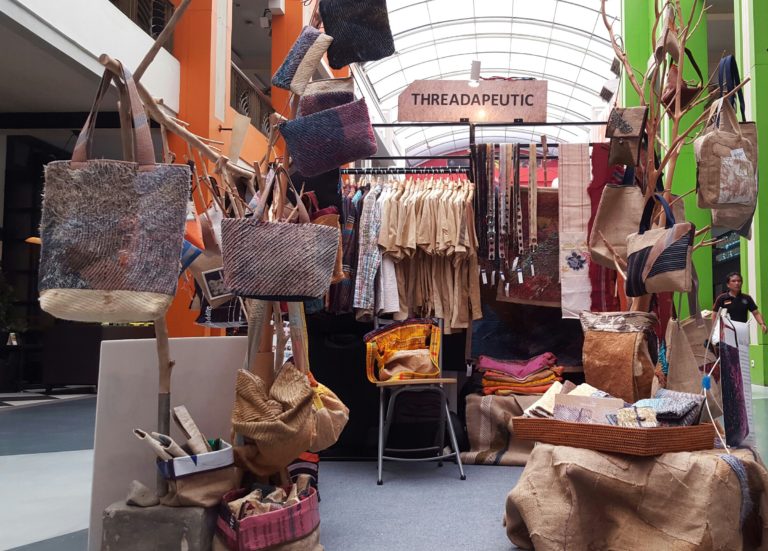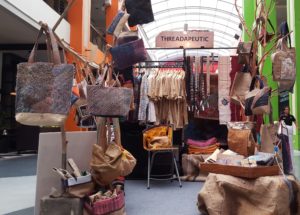 How did the idea for Threadapeutic come about?
Threadapeutic first started when I was working for an event, Indonesia Fashion Week 2015. I was assigned to make event souvenirs and souvenirs for the media people who were covering the event. The materials available for upcycling were leftover fabric, old stock from fashion designers and post-event banners. The team back then consisted of a freelancing young mom who had a background in design, a young lady who just learned to sew, and a middle-aged man who was experienced in fashion sewing. We started experimenting with banners and fabric scraps in October 2014 and made pouches and bags. Through trial and error we managed to come up with a feasible, functional design. We prepared the materials to make over 200 bags for the event and commissioned others to sew for us too. We also experimented with different designs for the event souvenirs and started using used burlap sackcloth too.
Threadapeutic was introduced to the public at Indonesia Fashion 2015 in February/March. Each bag we made was labelled "Threadapeutic for Indonesia Fashion Week". The name is basically means "sewing is therapeutic". We are now 18 months old.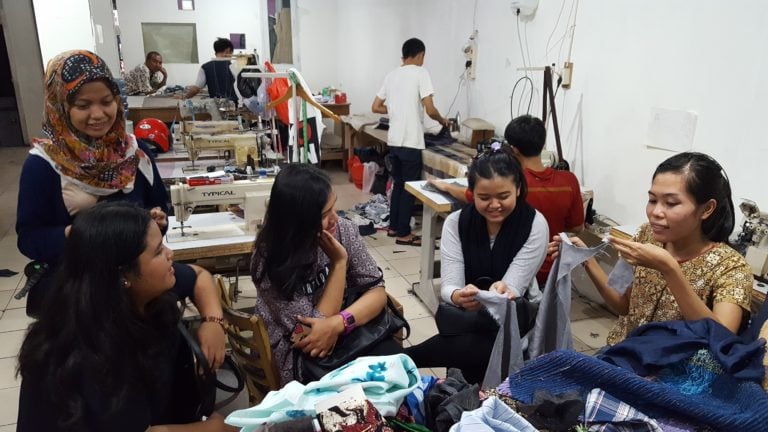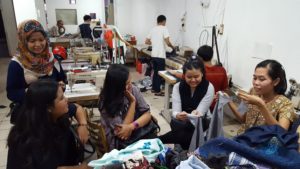 I learned sewing when I was pregnant with my second child but had never seriously sewn until my youngest daughter was all grown up and I was free to do anything, anything that is legal! Not having sewn for many years, I developed a fear for sewing. It's the perfectionist fear, as my dear friend Lisa calls it. Aware of my passion for sewing, Lisa encouraged to keep sewing, even though it took me a long time to get back into it. I started by hand-stitching a hobo bag (I still have it) out of batik cloth that was used to cover my makeshift side table.
At the time I was living in Singapore to be closer to my daughters and my sewing machine was back in Jakarta. It was a painstaking process to start sewing again as I tend to resew as I couldn't (and still do) stand messy work. It took a while for me to get comfortable and regain my confidence and I started making pouches, containers and bags for my daughters who were abroad at that time. It made me happy to not only to be able to send them gifts that I had sewn, but that I could actually sew. My mother, who passed away when I was 10, was a seamstress and she used to sew clothes for the family. My siblings and I have almost never bought our clothes.
After nearly a year of sewing to keep myself busy, I was invited to work for the Indonesia Fashion Week. My cousin was one of the directors behind the event was running the event and at first I worked as a liaison person for the event. But I was not really comfortable with entertaining foreign designers. I was not really into the seemingly glamorous world and I wanted to quit. My cousin asked if I would be interested in working for their "green movement" department instead and I gave it a try and was soon got very involved with department. Another hobby of mine is to turn something unwanted, unpleasing to the eyes into something useful and beautiful. I love old homes, old furniture, old fabric, anything that I could turn around and make them much more worthy than what they were. And that is how Threadapeutic was born.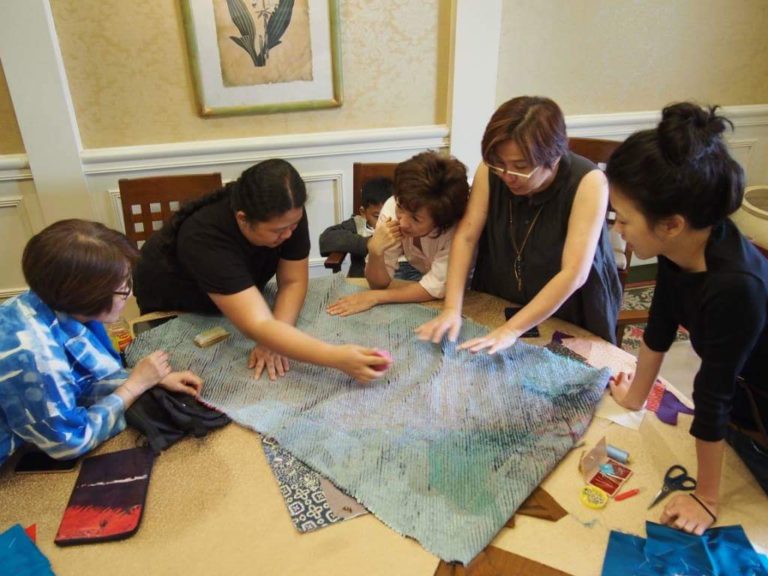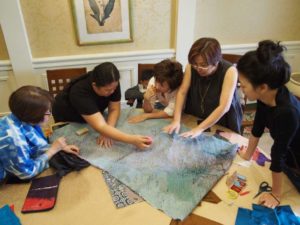 Today, beside the original team I have an apprentice helping out with the basic zigzag sewing of fabric scrap and laying out fabric for faux chenille/quilting material. We have more or less have a fixed products that we are consistently producing, mainly the faux chenille range. We also hire freelancing housewife and students from our neighborhood to cut for us as cutting can only be done by small scissor. Only a few days ago a friend introduced me to use slash cutter from Japan. It help cuts the cutting time into a fraction of what used to be days!
What types of products do you make?  How do you develop a line of products?
We make mostly bags, pouches, scarves and soft home furnishings such tapestries, table runners, table mats and containers. Faux chenille fabric are made of fabric scrap that we use for tapestries, bags and pouches. Leftover faux chenille is also used as appliqués.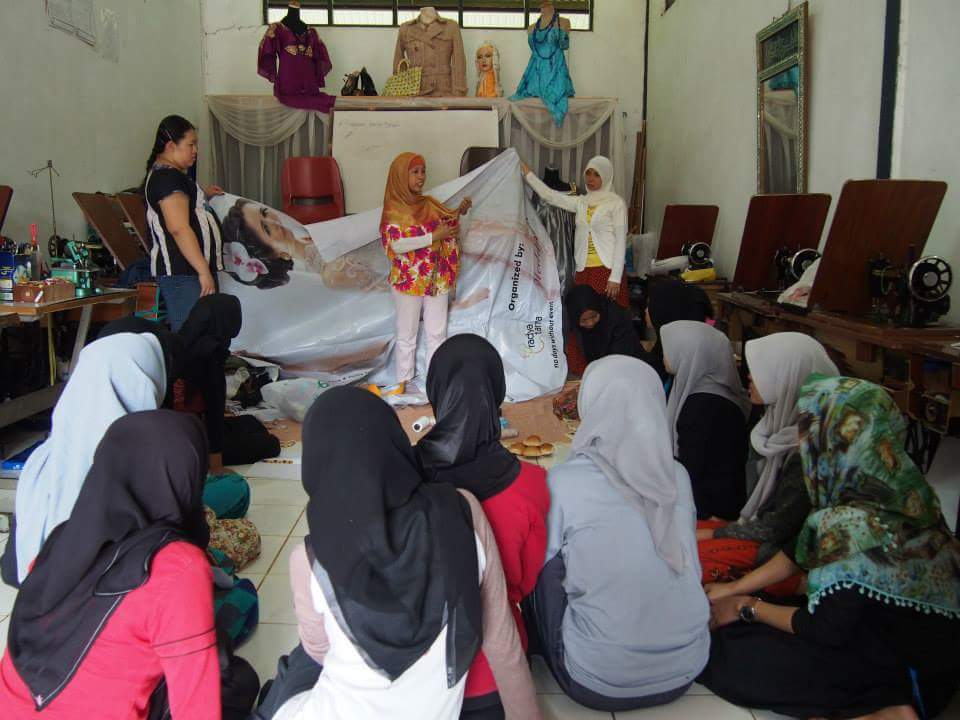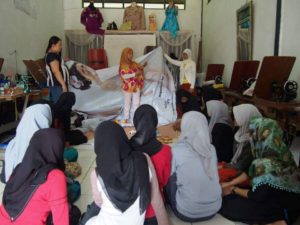 The products are designed based on the raw materials that we have on hand. We tend to mix and match between different materials and textures. We source inspiration from Pinterest and further develop the design to suit our materials and product function. Our designs tend to be functional and aesthetically pleasing at the same time. We do not really have a systematic way of developing a line of products. We make products not mainly for the purpose of sale but to satisfy our artistic instinct. We enjoy our creative process. When we were introduced  to Lantung barkcloth, we were so excited to have it combined with our chenille material.
What are some of the challenges you face in accessing raw materials and how do you overcome them?
90% of the scrap fabric is donated from garment makers, bedsheets maker, friends who own batik gallery and fashion designers' old stock. We also use post-event banners, mostly donated from event organizers, and sackcloths are bought from "pemulung" or waste collectors. In return we do give them some of the products we have made using the materials they donated and they are usually very pleased that we could make something valuable out of the things they have discarded. Thus far we have had no problem in sourcing our raw materials. Materials that we have to buy are zippers, bag straps, threads and sponge linings. We tend to first search for cheaper, leftover zippers from post production which are usually of better export quality. Some of the sponge linings are donated remnants. Paper-like lining, magnets are bought off the shelf.
Who are your primary customers? 
Our primary customers are mainly American and European expats and locals who are like-minded, and basically all level of patrons who appreciate craft and art. The fact that we use up-cycled materials is an added bonus for them. They know that they are buying something that are both stylish and environmentally friendly. They in turn feel good that they are taking part in the "love our planet" movement. We have both online (via Facebook and Instagram) and face to face customers and my living room at home serves as a gallery, which is open by appointment only. We have a separate location for workshop.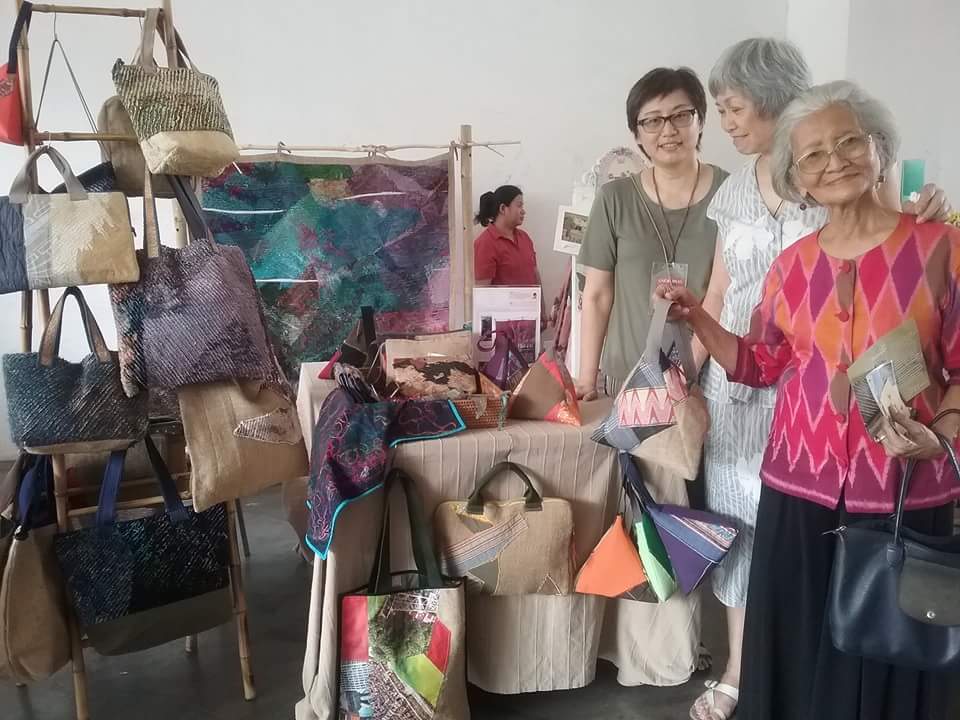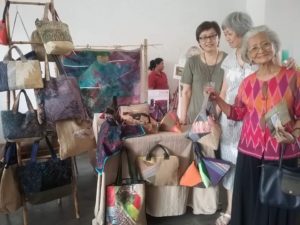 We have participated in craft bazaars and expat charity bazaars such as ANZA, BWA, AWA where we get most of our expat customers. We have also exhibited in craft bazaar's such as Singapore's Public Garden and the UP market that specialize in up-cycled products. We will be conducting our first sharing workshop with a charity organization in collaboration with The Upcycle Factory on June 11th & 12th, and Maker Faire bazaar on 25th & 26th in Singapore.
Through my experience selling in bazaars, and participating in Climate Change Education Forum and Expo, I more or less gotten to discern our target audience. I have not really done much research to determine likes, dislikes. Products that don't sell well, we will just stopped making.
Our mission is to share and train lower income community to upcycle creatively and stylishly. Techniques are not our main concern, as most Indonesian are very talented and know more about techniques than us, so it is more the issue of trend, design and style.
How do you create awareness about your brand and mission? Is the local audience as engaged with your mission as the expat audience is?
We rely heavily on our Facebook page and Instagram to create awareness about our brand and mission, and at every bazaar or exhibition we participate in. We also spread the word amongst family members, friends and acquaintances. We are always enthusiastic about sharing our story and work and trying to get more people in Indonesia aware of and interested in up-cycling. We are not fanatically into the Green movement or the idea of saving our planet. We are starting with what we can do, with the skills we have, with whatever waste materials that are readily available in our community.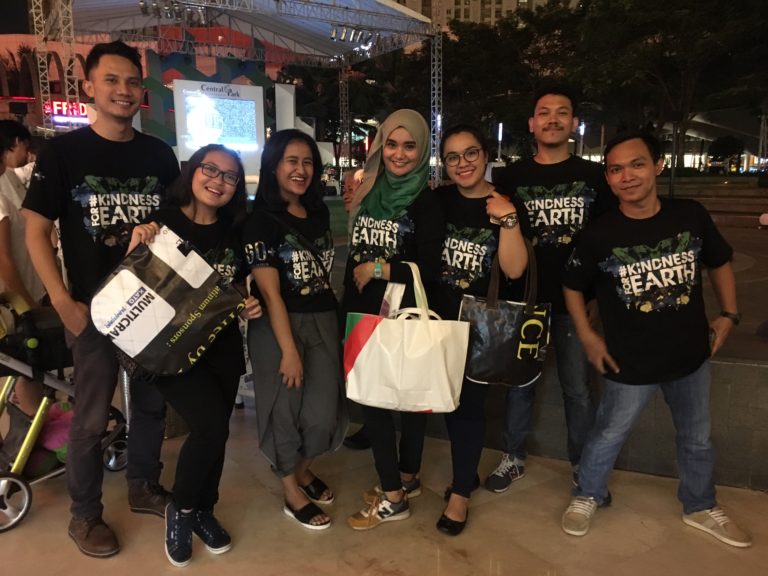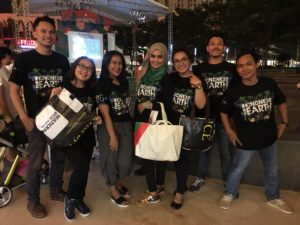 As for the audience, locally it is mainly senior high schoolers, college students, crafters and designers who are more receptive to our ideas. Some of the expats in Jakarta are still limited to bazaar community, some are very curious about the chenille work which most have not seen before. I have shared articles about upcycling written by other people, posters on upcycling, as well as sharing work done by others that are in line with our philosophy and mission. The local audience such as foreign-educated ones, local university students are at times more receptive and engaged rather than the Jakarta expat audience. We have university students who came to our workshop just to find out how we upcycle. We actually have a random assortment of patrons who like our products, from as young as college students, young professionals, housewife, educators, designers, craft enthusiasts to grannies!
What would you site as one of your success?
As we are a relatively young organization, a lot of the work required to create brand awareness is not only done by our small team but by the help of family and friends and particularly my daughters and their friends. My family is my biggest supporter of what I am doing and I consider this support the secret behind my success.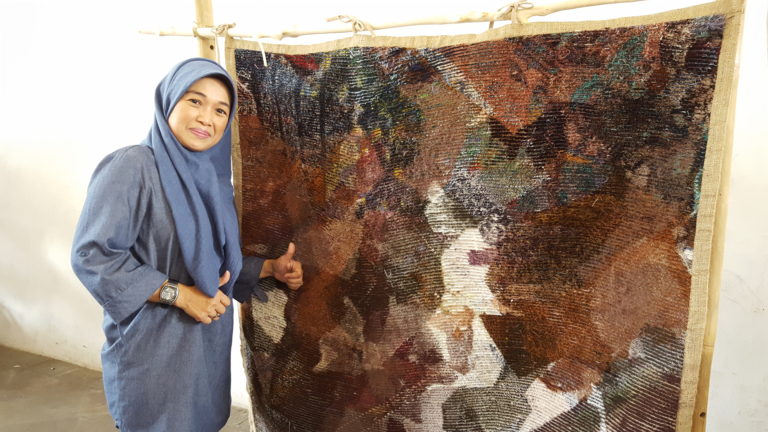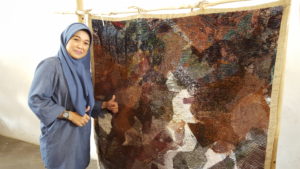 What has been one of your biggest challenges and how have you navigated this?
My biggest challenge is to get people to appreciate the worthiness of our designs, the effort we put into making imperfect materials, readily disposable trash into something functional and aesthetically pleasing and able to compete with products that are in the market. People have tendency to see just the origin of the materials. It takes time to educate people. We just have to be consistent with our philosophy and continue to do what we are doing to create awareness. It is what we do that count, not what we say.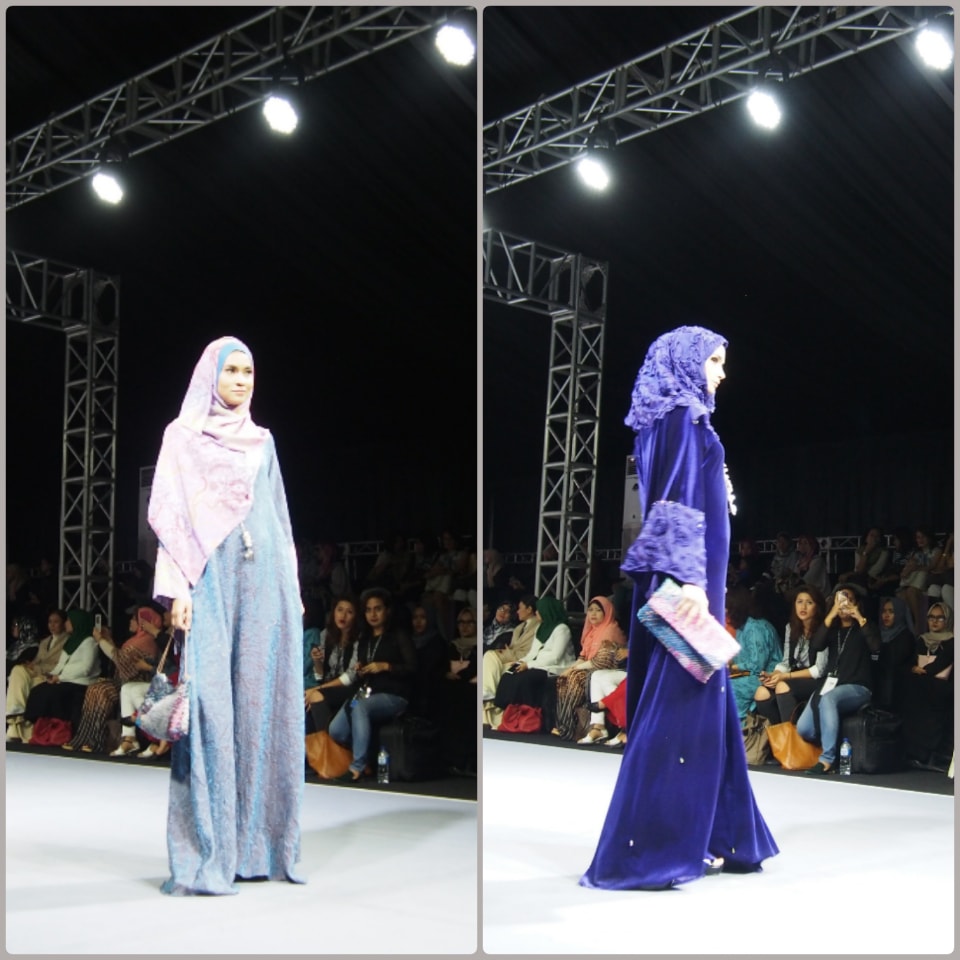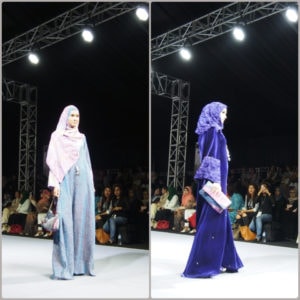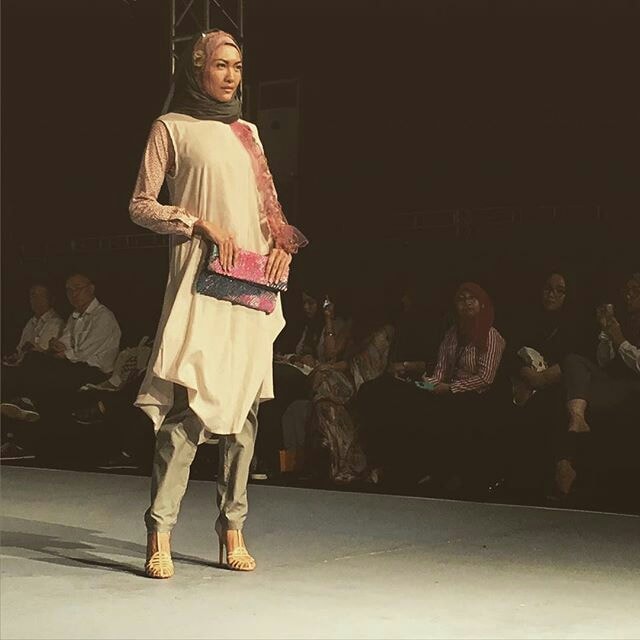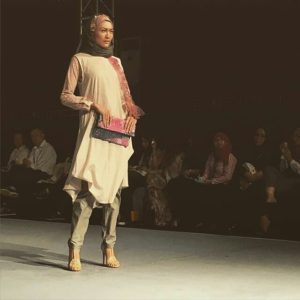 What can we expect to see from Threadapeutic  in 2016?
We will have more empowerment workshops planned for the needy or those who just want to learn up cycling as a hobby. We are hoping that our hobby workshops and sales will in the long run help provide some of the funds needed to empower the needy. Though we would very much appreciate the helping hands of our government agencies such the body of creative economy and perhaps international organization to support us in anyway they can.
As our mission is to create awareness about our environment and to find more ways to upcycle what we already have. We will collaborate with others who have the skill and know how to teach communities who would like to learn to help themselves through upcycling.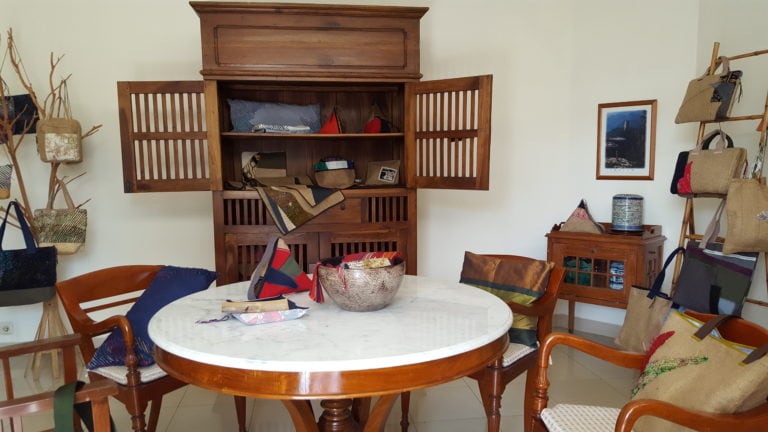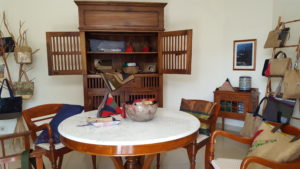 For more information about Threadapeutic, please visit: https://threadapeutic.com