Artesan Profile: Lai Designs. A conversation with founder and designer, Puja Bhargava Kamath.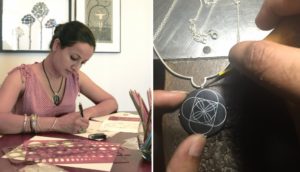 Lai is a India and California based indie jewelry label under which we design and manufacture unique, culturally inspired collections of handcrafted sterling silver jewelry.
Cultural and historical references reinterpreted with a contemporary touch is the DNA for Lai which means 'the beloved one' in Sanskrit. (It is also a word in old French for a 'lyrical, narrative poem written in octosyllabic couplets that often deals with tales of adventure and romance'…..we don't think we could have chosen a more apt name for our jewelry line!)
Lai pieces are not intended to be larger-than-life statement pieces. We want our jewelry to enhance and give joy to wearer through its clean lines, pleasing proportions, fine detailing and great craftsmanship. We very often do modular/detachable designs that can be more in more than 1 way, to help women get more wear and versatility out of our pieces.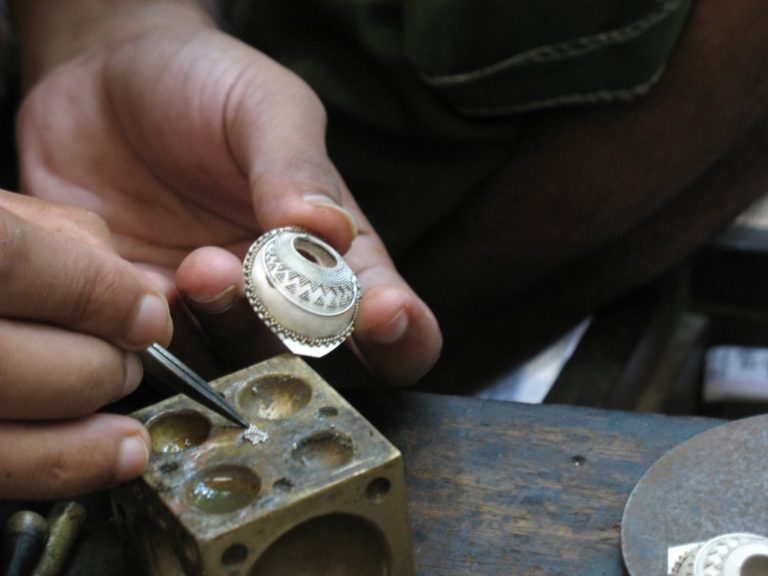 The beauty of our jewelry lies in the fact that though influences may be regional but its appeal entirely international. However, no simple, dainty triangles and dots and dashes (that are all so popular these days), for us. We don't want to add to the homogeneity that is all pervasive in the jewelry space currently. We want to retain, in some form, that spirit of culture and identity that adornment has always stood for. That and the soul and warmth of handcrafted versus mass produced options. Our goal is to create original jewelry that will be worn and treasured for a lifetime.
We subscribe to Fair Trade principles and all our jewelry is handcrafted in sterling silver, in Jaipur, by expert artisans using time honoured techniques. We often collaborate with other craft clusters in India (like for the 'Bidri X MCM' or 'Nathdwara' collections), to share my love for these ancient skills with our clients.
Lai was born as a brand in 2011 though I had started supplying silver jewelry to Fabindia in 2009. After graduating from design college, I decided to explore different sectors that interested me and not get tied down to just one. So I took the freelance/consultant route and picked up projects across different sectors- jewelry, crafts, interiors and leather goods. During this time, I also took courses in Gemology from IGI, New Delhi and Art Appreciation from the National Museum, New Delhi.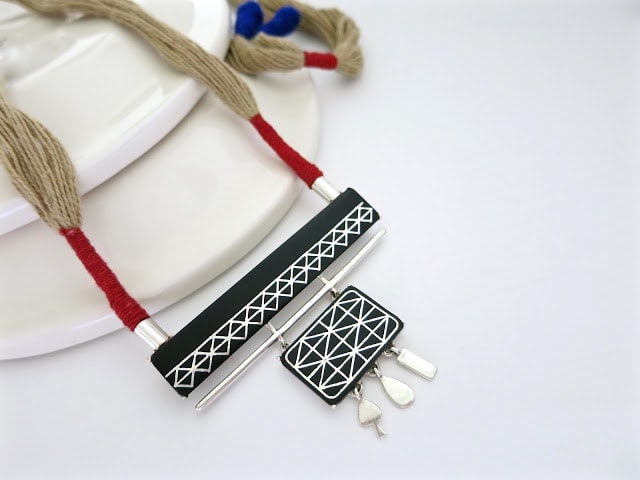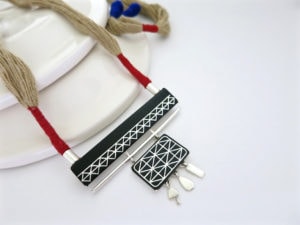 After some years of providing design services to a number of leading national and international jewelry houses and working with craft clusters across India, I decided to venture into producing my own designs. This was a decision born out of a realization that silver jewelry was one category where my three big passions converged: working with crafts and traditional skills, jewelry and history.
I love jewelry- especially silver. I felt uninspired by the same-old designs that were in the Indian market at that time and wanted to create jewelry that was contemporary- not in a stark, clinical way but one that celebrated an Indian minimalism, was wearable, relatable and most importantly, affordable – the kind of jewelry that I would personally want to wear. Our designs continue to be very personal and come from a place of my preferences and influences at any given point.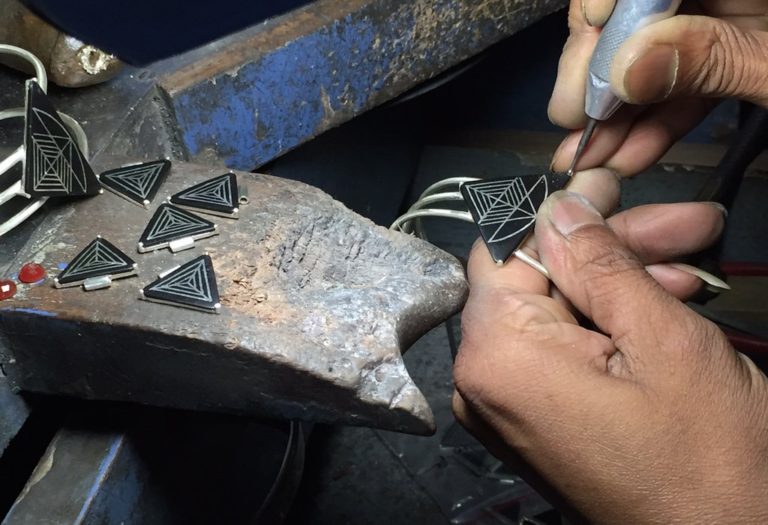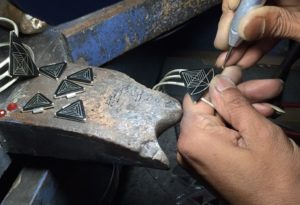 Every collection of ours starts off with a theme, an inspiration or a story which usually is a place that I'm fascinated with at that point or have traveled to (such as our Samarkand, Alhambra, Kinner Kailash and Kutch collections), a culture and its aesthetics (e.g Greek, Nilaj(a), Kashmir and Mughal collections), iconic motifs and their history (e.g Paisley, Mehndi and Rangoli collections) or craft skills that I love (Bidri and Nathdwara collections).
I spend considerable time soaking in all kinds of information about the theme I'm working on. The research, the curation of ideas and sketching out the collection is by far my most favourite part of the job! At the core of our every collection are definite characteristics, forms, motifs and craftsmanship that encompass the spirit of its inspiration. And that is why we use 'Story-telling via jewelry' as our tag line.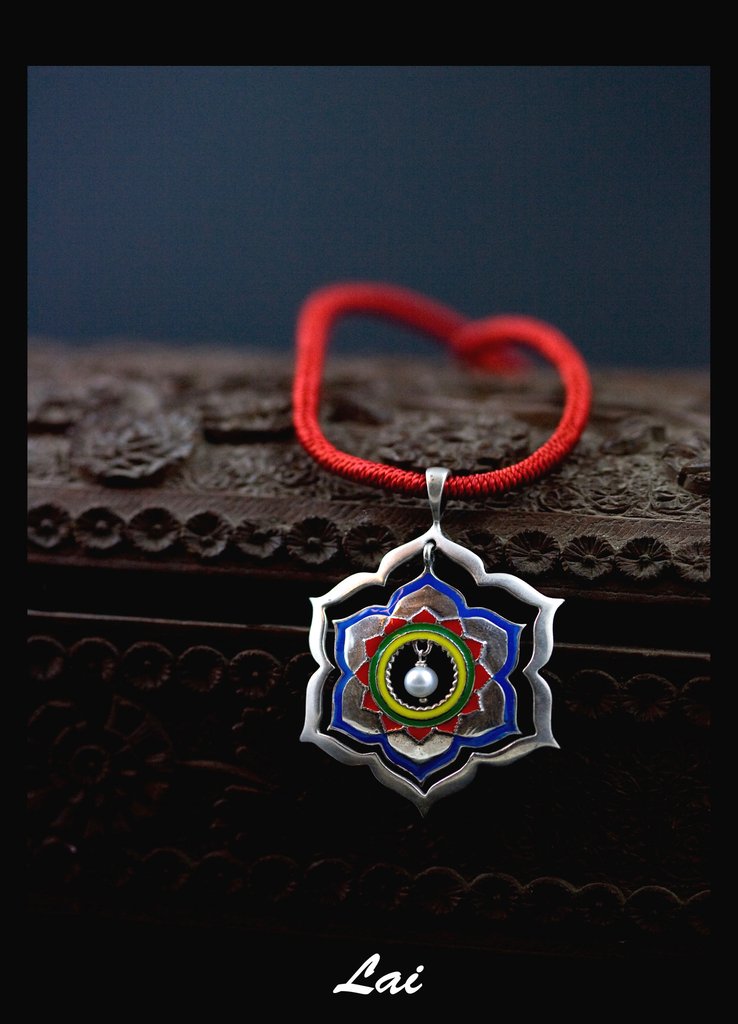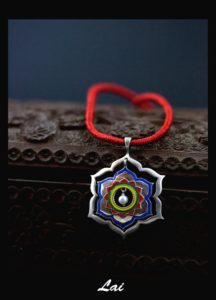 The final sketches are sent to our Jaipur workshop where they make the initial samples. These samples are photographed at every stage and shown to me via e-mail or on Whatsapp. I make changes wherever necessary and then this set of samples is couriered to me in the US. I go through the samples, try on and wear the jewelry to see if it is comfortable, falls well etc. If any changes and/or corrections are needed then the samples are sent back to India to be re-worked. Once I have the modified the final samples in hand again, I shoot them and open the collection up for pre-sales or put a small batch in production for ready-to-ship collections.
Our workshop is in Jaipur and all our jewellery is handcrafted there- using a mix of old and new jewellery making techniques.
One of my big desire is to incorporate other regional craft skills in our jewellery as often and as much as possible. For instance, our new collection, Bidri X MCM, was born out of our collaboration with the Bidri craft cluster in Bidar, Karnataka. This was a tedious, long drawn process which included a 3 month stay in India to see this collection through.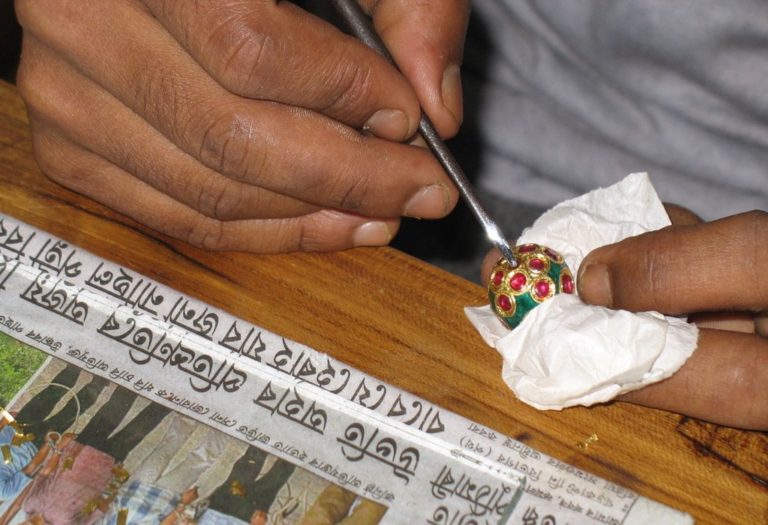 I am in contact with our offices in India on a daily basis and extensively rely on e-mails and Whatsapp to be on top of things. Sometimes, it is bit of a challenge, but for most parts we manage quite smoothly!
India has an age old tradition of hand crafted jewelry and it is amazing how despite all kinds of advancements, a large part of the Indian jewelry making vocabulary has remained largely unchanged. In my view, this is a direct result of demand and supply. To go with their formal or traditional clothing like saris or during occasions like weddings or festivals etc., women always wore or were encouraged to wear designs that their mothers or grand mothers wore, which have resulted in keeping age-old techniques and design idioms unbroken for centuries now. And given the regional and cultural diversity, within India, this band of traditional techniques and styles is not a narrow one but actually quite expansive!
I think people, not just in India but everywhere, prefer handmade jewelry because handcrafted jewelry has an inherent warmth and soul that mass-produced machine made jewelry just does not. Something has to be said about the beauty and finesse of a piece that was labored over for days rather than something that was run through an assembly line production- ready in a few hours!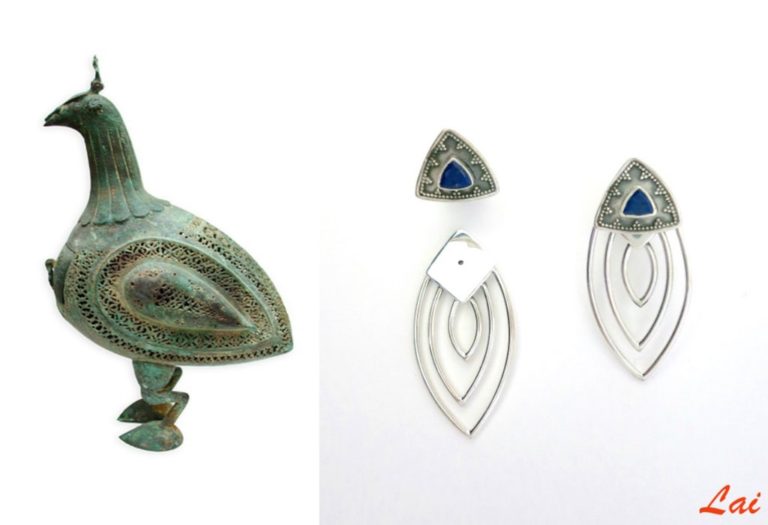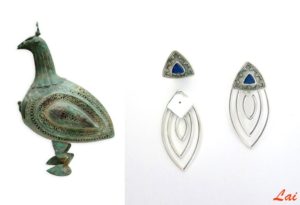 In addition to this, what makes handcrafted jewelry like ours more valuable (to process) is the use of techniques like fine hand-painted enameling, granulation work ('rava' work), fretwork, bidri work (wire inlay on a metal) etc. These techniques just cannot be machine replicated. And, invariably, these are the kind of jewelry pieces that you want to hold onto and pass on to the next generation.
Jewelry made in small batches and handcrafted by artisans has a quality of uniqueness- the makers mark- which truly add to their beauty. Once a client understands and is aware of these different techniques and other finer details of jewelry making, they are always willing to pay extra for such craftsmanship- I've seen this time and again and everywhere!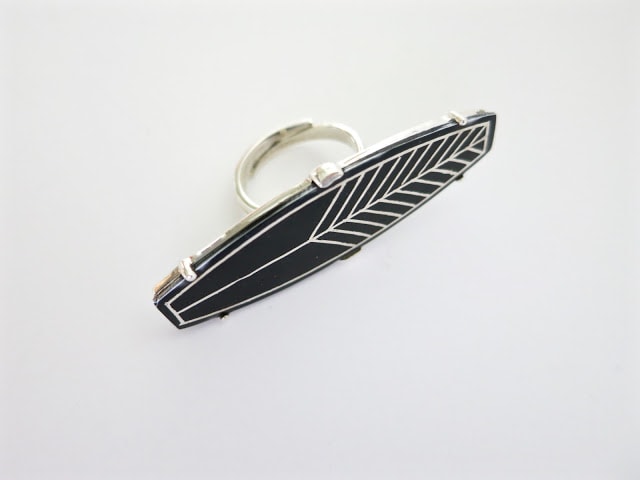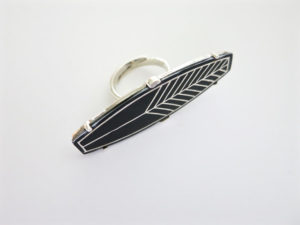 Lai's jewelry is certain to excite the American audience! I do believe that while North America is a very mature and saturated market – in many ways it remains an under-fed market when it comes to different traditional global craft skills be it in jewellery, textiles or other crafts. Apart from our unique designs and traditional techniques, I think our being off-trend will also appeal a large section of women who look to jewelry as a way to personalize their outfits and want more that the sameness being offered everywhere.
We believe a conscious, travel happy, curious, ethical fashion loving, Design Sponge reading, Anthropologie shopping individual is who our target audience is. But I'm sure there are women who may not be in tune with design blogs but still are very tuned into artisanal fashion and living who would love to wear our jewelry too. Anyone with a global taste and artistic appreciation!
Like we say on our website: "Lai will appeal to the memory collectors, the wanderlust bitten, the experimenters and culture maven looking for timeless design stories in jewellery. We like to think of our designs as having a strong personality, an Indian soul and a global spirit. Lai is contemporary, classic and chic with a touch of fun!"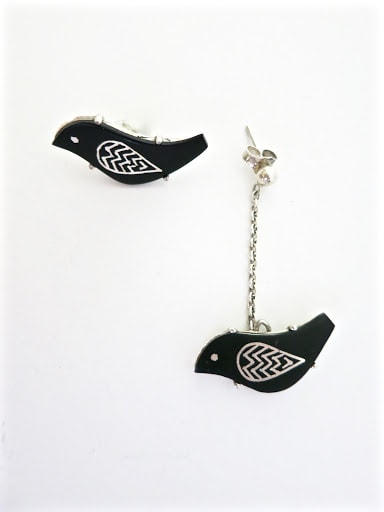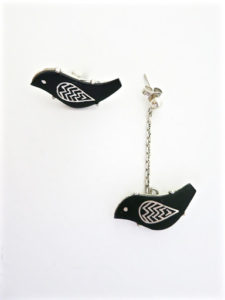 We are excited to be launching here in N. America very soon! In fact we have just set the ball rolling with our new Etsy shop featuring our Bidri collection as a way for buyers in Europe and US to find us and discover another aspect of Indian craftsmanship.
Why Etsy and why not our own website? Well, while we mainly sell online in India, we do so in a rather unconventional way! Our website is not e-commerce enabled and those interested in enquiring about the products or wanting to make a purchase have to write to us for the catalogue. We may switch to the conventional way of an e-commerce enabled website in future, but for now we like the personal connect we get to establish with our buyers, operating this way. And this is a model, as we all know, we just can't follow in the US!
In addition to an online presence we plan to participate in craft and trade shows in the coming year and look forward to seeing you online or in person. Needless to say we are very-very excited!